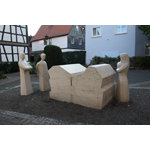 A concert in aid of the victims' memorial (Opferdenkmal) in Oberursel is being held at the Hospitalkirche in the Strackgasse on Wednesday, 9th November 2011 at 7.30pm.
The group group "HochtaunusStreicher", conducted by Claudia Louise Weigand, will be playing pieces by Johann Sebastian Bach, Joseph Haydn, Johann Pachelbel and Edvard Grieg.
There will also be a reading of Kressmann Taylor's "Address Unknown".