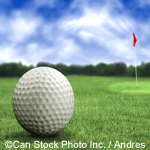 Putter's Paradise – a putting course in Oberursel – will be opening on Sunday, 3rd April, 2011 at 11am.
The course is located in the Oberstedter Straße, in front of "Casa Primavera".
The nearest U-Bahn station is "Lahnstraße", but if this is still closed when travelling from Frankfurt then get out at "Oberursel Altstadt" instead and take a short walk up the Hohemarkstraße. Turn right at the Jet petrol station.