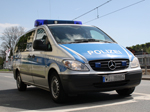 Police in Oberursel are asking a witness to come forward, who may be able to help in the case of a endangering traffic and verbal assault last week.
On Tuesday, 1st November, at around 5.10pm a driver ignored the right of way  of another car at the junction of the Homburger Landstraße and Lange Straße.  The driver of a Skoda was able to brake in time to avoid an accident, but at the same time a child who was using the pedestrian crossing at the point in the road was caught up in the situation.
The female driver of a large, red vehicle who had stopped at the crossing may be able to help police with their enquiries and is asked to call 06171 62400.