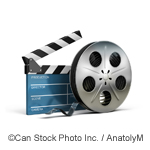 Tuesday night is film night at Bluebox Portstraße, located near the U-Bahn stop "Altstadt".
On Tuesday, 10th December, 2013 the film "Die Taliban – mit Schokolade in den heiligen Kreig" (The Taliban – with chocolate into the holy war) will be shown at 9pm, with doors opening at 8pm.
After the film there will be a chance to chat to director Katrin Eigendorf and two refugees.
The film is being shown in co-operation with the charity "Windrose".