The Stadtwerke Oberursel have informed us that the indoor swimming pool at the TaunaBad will be closed from Monday, 27th July, 2015 for around five weeks.  This is to allow for the annual maintenance to take place and to remedy some of the defects left from when the pool was built.  This cannot be done whilst the pool is in use.
The Foyer and changing room area will be closed for around one week to allow them to be deep cleaned.  Visitors to the outdoor pool can either use the ticket machines next to the building or the side entrance at the end of the car park in the Clara-Schumann-Straße.  There are changing rooms available at the outdoor pool.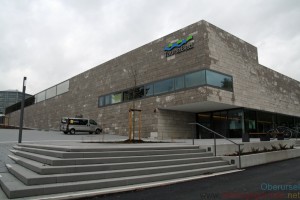 The foyer and changing room area should be available from 3rd August again, but it is possible that they may need to shut on other days.
The maintenance work involves draining the water from the indoor sport pool, something that takes eight days to do.  One the pool has been cleaned it takes another eight days to fill it again.  The technical maintenance to the water systems will take place during the period when there is no water in the pool.
The outdoor pool will remain open during this time, closing daily at 8pm. It will additionally be open Mondays to Fridays from 7am.
Aqua-Fitness courses will not be taking place during the school holidays.