The children's workshop that set up camp this week is well known to many children in Oberursel.  Klaus Bethold and Roswitha Weißschnur from Leipzig have been coming to the town since the Hessentag in 2011, where they could be found at the Maasgrund.  They are regular visitors to the Christmas market and the Waldfest, as well as working together with some of the primary schools in the town.
But this year they are taking part in the Orscheler Sommer events for the first time and are on a site behind the Christuskirche for a whole week.  This has its advantages according to Klaus, 75.  Anyone can come and they can spend as long as they like trying out the tools.
The tent contains four lathes, three work benches, a number of carving stools and an incredible number of tools.  There are also saws that can be used to saw a slices off tree stumps.  Klaus and Roswitha go from bench to bench and help the children, explain the tools and how they work, and answer their parents' questions.
Klaus is an electrician by trade, but he taught himself to work with wood as well before working as a carpenter for 25 years.  He only stopped working four years ago and now dedicates his time to the children's workshop.  His experience shows.  The handles on the tools and not like you would normally find in a carpenter's workshop.  They has made them all himself to fit the children's hands better.
Roswitha used to be a child-care worker, before she switched to an administrative role.  She has been helping with the workshop since 2010 and likes spending so much time outdoors.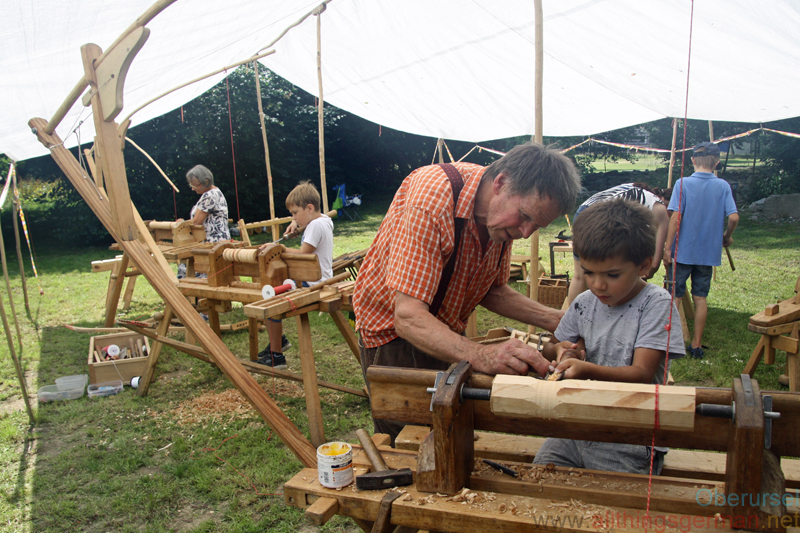 6½ year old Adrian from Bad Homburg came with his Grandmother Christa Günther from Oberstedten to the workshop. Here, Klaus Bethold explains the lathe and chisel to him.
Their emphasis is definitely on trying things out.  There is no educational concept, no books and no pressure to be able to do something.  Just people who like to explain their work and how, for example, the shape of the tools makes them self-sharpening, saving them time.  Or where the techniques come from that they use.  And it is not only the children that are fascinated, some adults have been going without children and trying out the tools and the lathes for themselves.
But is it really that much fun making the same things every day? Klaus Berthold thinks so.  For him, even the 20th candle stick of the day is not a copy but a unique item.  He grins as he explains to yet another child how the chisel and lathe work. "It's more fun working with the children than with customers", he says.
The workshop is open every day in the Rushmoor Park until Sunday, 30th July, 2017 from 9.30am.
This article appeared in German in the Oberurseler Woche on Thursday, 27th July, 2017.