Monday, 7th August, 2017 sees the start of roadworks in the Altkönigstraße that are set to last until the end of March 2018.
The first stage will see the footpath on the southern side of the road being re-surfaced between houses 60 and 68 and the bus stop being re-built to make level access to the buses.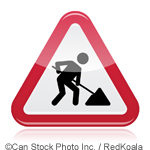 Then the footpath will be re-surfaced up to the Rotbornstraße.
In the third stage the footpath and the parking bays on the northern side of the road between the Clara-Schumann-Straße and Steinmühlenweg will be done, followed by the footpath and bus stop near the Steinmühlenweg and Altkönigstraße number 73.
The final stage will see the road itself being re-surfaced.
The first four stages will see the road reduced to a single carriageway with traffic lights in operation.  The road will need to be closed completely for part of the re-surfacing work in the finale stage.
Local residents should be able to access their drives at most times.  The cost of the project is being paid for in part by a grant from the regional government (Land Hessen), and will in total cost €730,000.