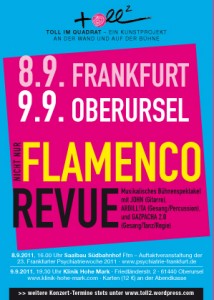 "Toll im Quadrat" is a revue taking place in the Klinik Hohe Mark on Friday, 9th September 2011 at 7pm.
In the revue local graphic designer and dancer Nathalie Karg will present a mixture of flamenco, film, comedy, song and dance, and will be accompanied by John "Lobito" Opheim on the guitar and flamenco matador, singer and percussionist Manuel Lojo "Ardillita".
Entry to the revue and the accompanying "Bipolart" exhibition costs €12.
The revue is also being performed on Thursday, 8th September 2011 at 4pm in the Südbahnhof in Frankfurt.  No entrance fee is being charged for this performance, which is without the exhibition.
[highlight color="blue"] The nearest train station is Hohemark on the U3 line. [/highlight]