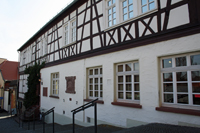 The Vortaunusmusem is celebrating its 25th Birthday on Saturday, 1st September 2012 between 4pm and 10pm.
The museum, which contains examples of the mills that used to operate in Oberursel as well as some of the Celtic finds from the area, was opened in 1987.  It now contains the Tourist Information Centre and also a special exhibition about the Seifenkistenrennen (soap box races).
At the birthday party there will be things for both children and adults to do, as well as tours of the exhibits and a look behind the scenes of the museum itself.
The museum is located at the top end of the Marktplatz.