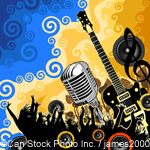 The 8th Oberursel Woodstock Party is being held on Saturday, 24th September 2011, at 8.30pm in the "Vereinshaus Frohsinn" (Frohsinnweg 1).
The following bands will be performing:
First in Line
Isle of Lucy
Candy from a Stranger
Tickets costs 7 Euros in advance or 9 Euros at the door.
Doors open at 7.30pm.
For more information visit www.woodstockparty-oberursel.de