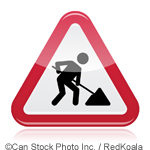 A number of roadworks and a reduction in railway services is set to affect Oberursel and the surrounding area in the coming weeks.
The main problem for car drivers will probably be the closure of the B456 between the junction with the L3003 (the exit to Oberstedten) and the crossroads in Dornholzhausen.  This section is due to be closed from Friday, 11th July until Sunday, 20th July, 2014.
Not only may local residents expect some noise, as the work will continue at night and the weekends, but there is a local festival ("Kerb") taking placed in Oberstedten with additional road closures to be expected there as well.
Anyone travelling to the Usingen area would be well advised to travel via Köppern and then past the Lochmühle to avoid the area completely.  Many drivers will probably be taking the diversion through Bad Homburg.
The next section between the junction with the A661 and Oberstedten will be closed from Friday, 1st August until Friday, 8th August, 2014.
Meanwhile, parts of the Kurmainzer Straße in Weißkirchen will one-way towards Steinbach until the end of September to allow the pavement to be renewed and the bus stops to be improved.  Traffic from Steinbach will be diverted along the Oberurseler Straße.
Part of the Altkönigstraße also remains one-way with a diversion in place.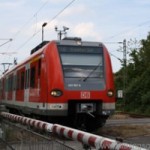 Meanwhile, there are railway works taking place in Frankfurt between Saturday, 12th July and Friday, 22nd August, 2014, and as a result the S5 will not be stopping at Frankfurt West, Frankfurt Messe or Frankfurt Galluswarte.  It will terminate at the Hauptbahnhof in Frankfurt and not enter the tunnel as usual.
A reduced timetable will also be in operation, with trains only running every 30 minutes.  Travelling to Frankfurt, these are the trains that leave Oberursel's station at 19 and 49 minutes past the hour.
The Taunus Bahn, which normally runs 5 services into Frankfurt each day, stopping at Oberursel on the way, will only be running 3.  According to their timetable these leave Oberursel's station at 6:06, 7:06 and 8:06.
Travellers should plan plenty of extra time when travelling by car or train into the Taunus or by train to and from Frankfurt.