It was Saturday, 6th December, 2014.  The couples Sabine and Frank Starnberger along with Antonia and Karlheinz Meier were on their way to the hospital in Bad Homburg, where they their first children were about to be born.  But whilst the mothers stayed calm, Frank was so nervous, that he needed something to calm him down.  Karlheinz meanwhile had been in a strange accident and was now a patient himself in the hospital.
However this was not really taking place in Bad Homburg's new hospital, but instead on the stage of the Taunushalle in Oberstedten.
Sabine gets a contraction and Frank thinks that she is about to give birth.  Midwife Natascha tries to calm the pair down.
The comedy "Was that a Contraction, Darling?" was being performed by the fire brigade's theatre group and the audience were surprised when the curtain went up to see three real hospital beds on the stage, with bedside cabinets.  Admittedly, these came from Hofheim and not Bad Homburg, but this turned the scenery into a real highlight.
With the couples now arrived on the ward, it is the fathers who kept the audience laughing with a mixture of a laxative, a missing purse, and a speech problem caused by the accident.  The mothers were left to calm everything back down again.
Dennis Blatt alias Frank was not only busy on stage, his antics kept the audience laughing as well.  Axel Harth played Karlheinz, a tax inspector who insisted that their child's name would be written without a hyphen.  This was his first role, and since Karlheinz had was unable to pronounce s and z after his accident, the suggestions for the children's names caused hilarity.  For example, Sabine and Sebastian became "Schabine" and "Schebaschtian".
A third father was played by Michael Herber.  He kept coming back on stage with flowers and balloons, only to wonder what was going on and go back off again in search of his wife.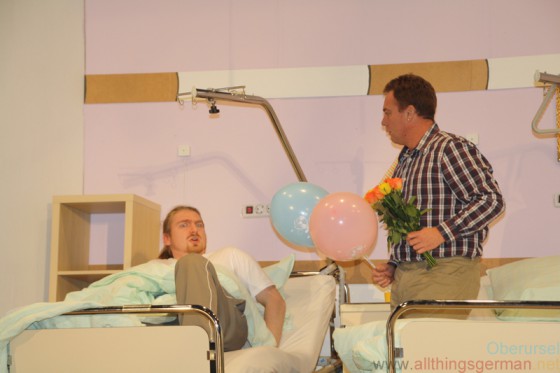 Expectant father Walter is surprised to find a man in bed in the maternity ward
The mothers Sabine (Melanie Köhl) and Antonia (Anette Hack) usually stuck together, although Sabine – as a result of Frank's activities – was the more active of the two.  They were visited by Antonia's friend Saskia, played by Tina Schickling.  Saskia not only had other views on life, she did not get on with Karlheinz at all and called him Antonia's "house tyrant".  The committed vegan had already brought 7 children into the World and was not amused that Antonia was in a hospital rather than having a natural birth elsewhere.  But at least she had a bottle of cabbage juice with her to keep her friends healthy.
Midwife Natascha needs all her strength to calm Frank down.  His wife Sabine doesn't understand what has happened.
Running the ward was midwife Natascha, played by Barbara Moritz.  It was her idea to put the mysterious Otto (Uwe Herzberger) into a bed on the ward to dry out.  However later we learnt that Otto was not just any other patient.
Otto (2nd from left) has given Walter a sedative.  Frank, Natascha and Antonia look on, concerned, whilst Saskia is chatting to Sabine.  Karlheinz (cente) has other things to worry about.
The 200 strong audience loved the situations into which Frank kept getting himself, and in particular liked the Happy End.  This took place during the Coda, with all three fathers now on the beds, with their wives in the delivery room nextdoor.
This article appeared in German in the Oberurseler Woche on Thursday, 11th December, 2014.
The play is being reprised at Alt Orschel (Marktplatz 6) on
Friday, 22nd May and Saturday, 23rd May, 2015
at 6pm.