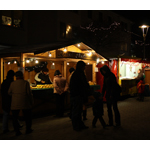 The Christmas Market in Kronberg is being held on Saturday, 10th December (3pm-9pm) and Sunday, 11th December, 2001 (11am-6pm).
It takes place within the old town (Altstadt), at the Berliner Platz and at the castle (Burg).
The Berliner Platz car park is located on the main road running through the town centre, and Kronberg is also easily reached by train as it is the end of the S4 line.