"What's a Schnuudedunker" you may ask?
"Schnuudedunker" is the name of the latest act from local comedian "Schüssel", that premiered at the Brauhaus last Saturday.  The event was sold out, and given that the room only had space for 97 guests everyone was in some way close to the stage.
But Schüssel doesn't stay on the stage all evening.  He sings.  And some of his songs he writes himself, such as "Ein Euro für die Schüssel, die Schüssel die ist Pleite" ("A Euro for Schüssel, Schüssel is Broke") and "Jetzt sind wir Pleite in unser' Städtchen" ("Now we're broke in out little town"), the first of which he performed cap in hand, leading some members of the audience to really put a Euro in.
The unexpected "collection" came to €27.07, a sachet of ketchup, a sachet of mayonnaise and a sachet of mustard, the financial part of which will be donated to the local charity that he runs.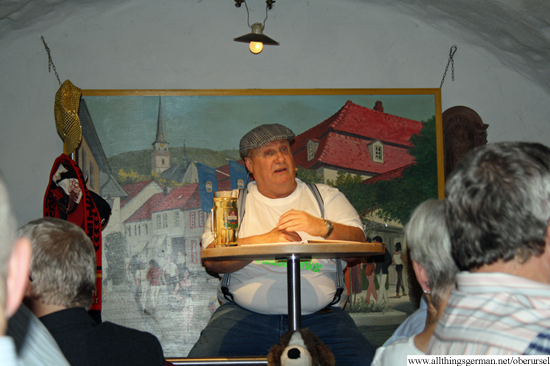 As topical as his songs as, his show covers a wider range of subjects.  Schüssel doesn't hold back with his views on Ex-President Wulff and the Ehrensold, comparing it to the size of his own pension, or on the supposed end of the World on 21st December this year.  Local and regional politics play a part as well, especially anything from Oberursel such as the swimming pool and the Hessentag, but also with excursions to Bad Homburg and even Frankfurt airport.  And politically correct he is most definitely not, but saying any more would be giving away too much.
However two things in particular play a recurring role – his wife, Frieda, and his football team – Eintracht Frankfurt.
Now, Eintracht Frankfurt might once have been an easy target to make jokes about, but not this season when they haven't yet lost a game (after 6 games) and are on second place of the league table in the first division.  It's still worrying for Schüssel though, since he has a bet running should they actually be German champions in his lifetime, which now seems slightly more likely than in the last few decades!
To enjoy an evening with Schüssel you obviously need to working understanding of German, but you also need to know what is going on in the World.
Many of the performances in November are already sold out, but at the time of writing there are still seats available for 15th November, 8th December, 27th/28th/29th December.  Tickets are available at the O.K. Service in the Kumeliusstraße (on the corner near the Epinayplatz), Christoph's Backhaus (Hohemarkstraße 6, near the roundabout), and by e-mail: p.schuessel-live@web.de
Schüssel's homepage can be found at www.schuessel-live.de – but with the new show he now also has a fan page on Facebook: facebook.com/schuessellive where you will find more photos of the premiere.
So what's a Schnuddedunker?  Well, I'll leave that for Schüssel to explain for himself.