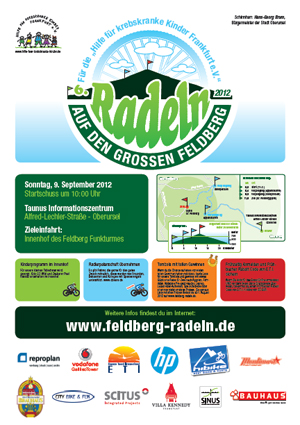 Tomorrow (Sunday, 9th September, 2012) will see a group of cyclists make their way up the Feldberg in order to raise money for "Hilfe für krebskranke Kinder Frankfurt e.V." (help for children with cancer in Frankfurt).
With around 300 people expected to take part, there are three routes – by bicycle via the Kanonenstraße, or by mountain bike or on foot through the woods.
Anyone wishing to take part should be at the Taunus Information Centre at the Hohemark between 8.30am and 10am to register.  To take part a donation of at least €15 is requested.  Refreshments will be available at around the half-way stage with a barbecue being held at the finish.
There will also be a tombola with prizes ranging from a week in a 5 star hotel in Egypt to cycling accessories – the total value of which is over €8,000.
For more information in English visit www.feldberg-radeln.de/english/