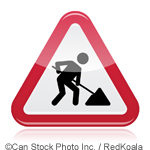 Starting on Monday, 24th September, 2012 the L3015 road between Kronberg and Oberursel will be closed until the end of October to allow the asphalt to be removed and a new road surface to be installed.
During this time the road will be closed in five segments between Oberhöchstadt and the "Waldsiedlung", and although the road is closed to through traffic, local traffic will be able to use the individual segments once they are finished.
Anyone travelling from Kronberg to Oberursel will be diverted via the main B455 road, in the other direction the diversion out of Oberursel will first run along the K772 (Königsteiner Straße) before joining the B455.  The diversions will be signposted.