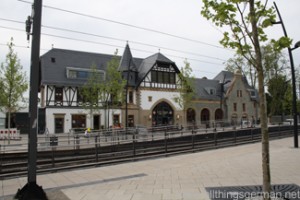 The station in Oberursel is being officially re-opened on Saturday, 26th May, 2012 at 11pm, and to celebrate a Bahnhofsfest is being held on Saturday and Sunday.
The station itself is easy to get to, as it serves both the S-Bahn (S5), U-Bahn (U3) and also a number of bus routes.
On both days there will be tours of the renovated station building, a miniature steam railway, a bouncy castle and goal shooting.
There will also be demonstrations by the dance school, a children's disco at 3pm on Saturday afternoon, and a big party throughout the building from 8pm on Friday evening.  Apparently they will also be showing the Eurovision Song Contest in one of the rooms!
Helen Doron Early English will be offering a "picture book cinema" version of the The Gruffalo on Saturday at 4pm, an "interactive theatre" version of  The Rainbox Fish on Sunday at 4pm, and a "Sing & Dance" on both days at 5pm.