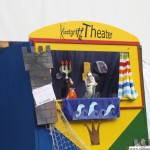 As part of the "Orscheler Sommer" programme a day for the whole family will be taking place in the Rushmoor-Park on Saturday, 17th August, 2013.
A flea market for children will be set up at 2pm, where children can bring along items they wish to sell.  They should also bring along a blanket to put on the grass.
A Punch and Judy show will take place at 3.30pm.
And during the afternoon there will be art workshops, games, a large slide, climbing, an orienteering treasure hunt, as well as food and drink on offer.
At 8pm a "short film festival" will take place, where a series of short films will be shown that have been made by local budding filmmakers.
Entry is free.