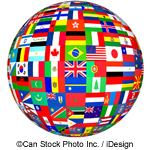 Frankfurt International School in Oberursel is celebrating "Worldfest" on Sunday, 13th May, 2012.
Between 12pm and 4pm the school will be offering a selection of international foods, games, activities and entertainment.
To get there by train, take the U-Bahn U3 to Waldlust.
If you come by car and live locally, head for Edeka's car park at the corner of the Hohemarkstraße and Camp-King-Allee from where the school will be laying on shuttle buses.
Visitors from further afield can take the Oberursel-Nord exit off he A661 towards the town and park on the field next to Rolls Royce (behind the U-Bahn station "Lahnstrasse" which is currently being modernised). Again, a shuttle bus service will taked visitors to the school.
There is no parking at the school itself.
Links
Frankfurt International School
Life as a principal – an interview with Rhiannan Wood