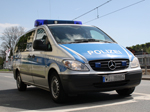 A road traffic accident took place in the Oberurseler Straße on Saturday, 14th July 2012 at 9.40am.
A car travelling along the Oberurseler Straße coming from the Kurmainzer Straße failed to allow a lorry to pass a part of the road that is particularly narrow.  The 28-year-old lorry driver swerved to avoid the car, but by doing so came into contact with a parked car.  Both the lorry and the parked car were damaged, estimated at around 1,300 Euro.
The driver of the car failed to stop.
Anyone who saw the accident and can give details of the car driver should call Oberursel police on 06171 62400.