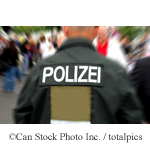 Police in Oberursel are looking for whoever is responsible for putting an un-lit "Warnbarke" – a sign usually used to block off a road for roadworks – in the middle of the Frankfurter Landstraße in the early hours of Saturday morning.
The driving of a car travelling from Niederursel towards Oberursel noticed the sign too late, causing damage to the car of around 2,000 Euro.
Those responsible will probably be charged with "dangerous intervention in road traffic", and the police are asking anyone with information on who put the sign there to call them on 06171 62400.